Well after lots of frustration with the second apron, I am very happy to report that I have completely fixed and finished the apron! And it turned out really good, if I do say so myself! I can't wait to see my Mom's face when she opens her gift. We are leaving christmas morning after the kids open all their gifts. I have been working on a blanket for one of my cousins and I started a set of placemats for my Grama. The placemats I should have finished later on today. The first one turned out great, well except for the size. It's smaller than I wanted it to be. But I'm ok with that & I know my Grama won't mind at all. I just know that when I make the next set of placemats they will be larger with another row & column of squares. Included with the set of placemats is a centerpiece placemat that actually IS a bit larger. I'll post more pictures of the entire placemat set once they are all finished. But in the meantime, here are some pictures of the finished peach apron, the blanket that I have been working on, and the one placemat that is finished!





This is the top front of the apron. I thought it would look cute to add a little lace to it. My Mom's favorite color is orange/peach.




This is the top back of the apron. I love having these cute little tags to add to all the items that I sew! :~)




This is the entire front of the apron.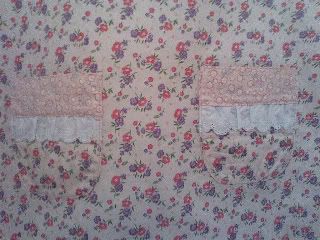 This is a close up of the pockets on the front of the apron, which also have the lace.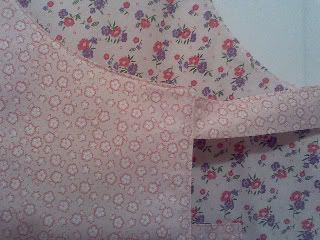 This is a close up of the front and back together.




This is the entire back of the apron.




This is the blanket that I am working on for my cousin. He is only 5 years old and absolutely LOVES trains. It is not a christmas gift, so there's no rush with getting it finished. I am also going to make another blanket just like it for my son who also LOVES trains. The stacks of squares on the top of the picture are sewn together in rows which will be added to the two rows that are already sewn together on the bottom half of the picture.




This is the first of the placemats that made for my Grama. Her favorite color is green, and the little pictures on the blue squares are bumble bees which have some green in them. So I think that the green squares & the yellow squares make a great contrast.

So there we are! Things are really coming along nicely!

Until Next Time,
♥ Margie ♥