Hello Fellow Stitchers & Friends!!!

I am so happy to report that other than attaching the carrot nose button on this cute lil guy, I am finished with the Snowmen for All Seasons Autumn!!!

As soon as the stitching store opens I will be going to purchase the larger sized carrot buttons. And then I will come home and attach one to my piece and off in the mail he goes! YAY!!!

Here is what he looks like all finished without his nose ...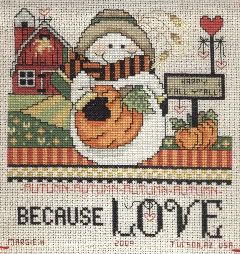 Not too bad, huh? Boy I'll tell you, I will be so glad when this round robin is finished. Which is right around the corner. I have one more piece to stitch and then it's done!

I'll scan and post another picture after I attach the carrot nose!

Until Next Time,
♥ Margie ♥