Hi Friends and Fellow Stitchers!!!

WOOHOOOOO!!!!!!!!!!!!!! This one is finished!!! Ok, so remember I had mentioned that I couldn't get the Stoney Creek carrot buttons that the pattern called for? Well so I bought ones that in my opinion would work nicely. HOWEVER! After I purchased 4 of these small carrot buttons, which I thought were the perfect size, I then decided to look at each of the patterns just to make sure that I had enough buttons. Well to my surprise, on the Winter piece, there are not only more than one snowman, but there are 3 smaller snowmen on the pattern. Which means I had to get 4 carrot buttons that were the next size up for the snowman that I just finished, as well as the other larger snowmen on the other patterns. So I did that this morning, got the larger carrots, and have now attached one to my snowman. I am not sure if it looks alright or not. To me it kind of looks like a Jimmy Durante nose if Jimmy Durante were a snowman LOL! But please let me know what you think. Maybe I'm just overly critical of my piece.

So here it is! All FINISHED!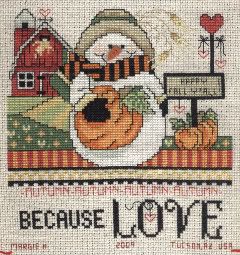 So whatcha think? I really did enjoy stitching this piece. I just absolutely love it ... well except for the nose lol.

So on to my next and final piece in this round robin! It's another SNOWMAN! This one is called Snowman & Robin. However, the snowman has since been fondly named ... Henry.

So here is what Henry will look like when he's all finished!






So I have already started right in the middle of the pattern, working on Henry's scarf right now! I'll post a picture soon!

I want to thank all of you my wonderful friends and fellow stitchers for stopping by my blog and leaving your sweet comments! I just love reading all the comments that everyone posts on my blog. It always gives me the warm fuzzies and makes me feel so good and happy! Thank you again very much for your kind words!

Until Next Time,
♥ Margie ♥