Hi Fellow Stitchers & Friends!!!

This update is actually from a couple of days ago. I am just now getting a chance to add it to my blog. I have more finished on the back stitching since this photo, but I haven't scanned that yet. I am so excited that I am getting so close to finishing this piece. It will be good to have it finished and get it in the mail to the next person. I wasn't able to do any stitching yesterday. Today, I plan on doing some stitching this afternoon. Tomorrow I have to go to the stitching store and pick up a different carrot button for the nose of this snowman. I bought buttons for all of the snowmen in the pattern series so that the other ladies don't have to worry about trying to find them. They are in Canada and it's harder for them to find items like that. Plus I thought it would be better if all of the carrot noses on the snowmen match. Anyway, I didn't realize until after I had purchased the buttons that the Winter pattern doesn't just have one big snowman. It actually has 2 big snowmen and 3 little ones. So I have to go back to the stitching store and get 5 slightly larger carrot buttons. I had planned on having everything done except for the carrot button being attached and then going to the stitching store today. But it is closed on Mondays. So I have to wait until tomorrow. They are not the carrot buttons that the pattern calls for however. This store only carries a few of the Stoney Creek buttons. And the stand up carrot ones are not included. So they would have to order them. So I'll use what they do have. I think they will still look really good.

Anyway, here is an update of my Autumn Snowman!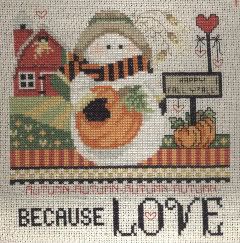 So there it is so far! The back stitching is going pretty quickly as it is simple and not anything like the Tatty Teddy back stitching. I am nearly done with the back stitching on the left side of the snowman right now, working on the barn. Then it will be the snowman back stitching and then the little bit for the heart on the letter O in LOVE and then my signature and it's FINISHED!!! So I'll post another update really soon!

Hugs to you all for all of your comments and support. I really appreciate every single one!!!

Happy Stitching!

Until Next Time,
♥ Margie ♥