Hi Fellow Stitching Friends!!!
Wow! I can't believe it has been one year today since I started my blog! When I first started my blog, I had no idea that I would make so many friends and have so many people that would be reading my blog. And I definitely had no idea I would be receiving awards on my blog! I have been having so much fun blogging. I didn't think I would be so into blogging. I mean I had tried Live Journal for a while. But I just never really got too into it. And then I came across Blogger. I thought "why not"! And I am so glad that I did! I have "met" so many wonderful people. You all make blogging worth absolutely worth while! I always look forward to reading all of your sweet & kind comments. They never fail to bring a smile to my face. I always look forward to each and every comment! Thank you all so very much for all of your encouragement and support on my blog!!!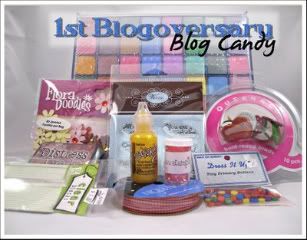 So here's to many more blogoversaries in the future!

Until Next Time,
♥ Margie ♥

PS ~ I will be posting an update on "Henry" very soon!!!