Hi Everyone!

I am finally making progress on the first round robin that I became involved in. I am sad to say that I have been lagging for way too long on this round robin. The ladies in the group have been so wonderful and patient. And I am determined to get their pieces finished. I wanted to post what I've completed tonite. The theme on this piece is faeries. She chose the stitching area to only be 50x50 stitches and I found it very hard to find a piece that would work out. And finally the piece I chose I had to cut down quite a bit, but I think it will look alright. She is the EMS Fantasy Babies Geranium Faerie.

So here is a picture of what the entire pattern looks like.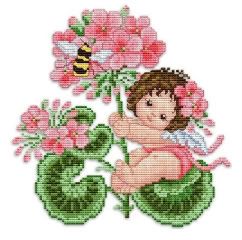 Isn't she adorable?!!! Well in order to make her fit into the 50x50 requirement, I have had to cut off most of everything around the faerie, so that there is barely any flower in the top left corner and only a little bit of leaf in the bottom right. In fact, in order to not cut out any of the faerie, I am actually stitching 54x56. So I am hoping the lady whose piece this is doesn't mind that it's a tiny bit larger than what she asked.

I completed the hair tonite. And here is a picture of it.







You can see where the hair is just slightly above the marks. Again, I am hoping she won't mind.

I'll be posting another update again very soon, as I want to get this piece as well as the other 2 finished by the end of the month ... 8 days and counting! Wish me luck!

Until Next Time,
♥ Margie ♥