Hello Friends and Fellow Stitchers!

Well I am happy & excited to say that I have completely finished all of the cross stitches on this design! All that's left is the back stitching of the words & names & date and then the long stitches of the stars & hearts! I love how pretty the hearts are and I can't wait to get started on the rest! This piece really has been so much fun.

So here are the finished border & hearts ...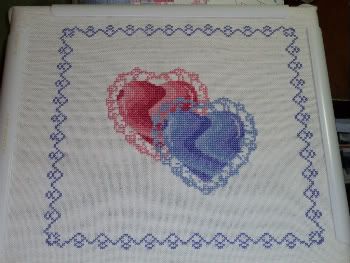 I think the hearts really POP, don't you?

I'm really looking forward to your feedback on this one as I want it to be just perfect for my stepsister & her soon to be (in a matter of hours) hubby!

Until Next Time,
♥ Margie ♥