Hi there Stitching Friends ~

As promised, I have some update photos of the RR piece, Henry, and also my WIP, Elemental Cosmos. I will be once again putting Elemental Cosmos aside, very temporarily, so that I can get Henry finished. I have all the white in the body of Henry finished, and am getting ready to do the blues that give him depth. After finishing the cross stitches, I'll do the stitches that will have beads and then it's on to all of the back stitching that is on the pattern, which is a lot! That will finish Henry off and he will then be in the mail back to his owner! :~)

I am also going to be taking part in an ATC (Artist Trading Card) Exchange with people from a group that I am in on Facebook. We stitch designs that are the size of a trading card. I think this is a very cool idea. There is a theme for each month and how fun it will be to see all the different ones that we get. I've seen pictures of some of the cards that others have received and they are very cute. :~) I'm looking forward to this. And right now I have some time to do some small projects, so I thought I'd give it a shot.

After the ATC Exchange, then I will get back to stitching Elemental Cosmos. I'll have all summer and September to get it finished in time for the state fair.

Here is where I am on Henry ...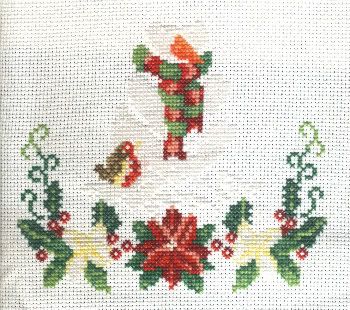 And here is where I am on Elemental Cosmos ...






With Elemental Cosmos, I just have to fill it in. Where the stars are, I'm going to use clear and yellow iridescent beads. I think that will make the whole design really POP even more. Or at least I hope it does. As you've probably seen from other pieces that I've done, I really like to add something extra to give it my own special touch. I just hope the judges like it as much as I do ... lol.

Well that's all for now. When I get more done on Henry, I'll post my progress. :~) I am babysitting this week, so I don't know how much stitching time I'll get in, but will hopefully have something to post next weekend.

Have a great day/night! And as always ... Happy Stitching!!!

Until Next Time,
♥ Margie ♥