Hello Stitching Friends!

So happy to report that I finally got my new glasses last week & they are great! It's so nice having my eyes back. And I just love the purple frames!

Anywho, so last week I finished an ATC for a Pay It Forward theme the group is doing. This one won't be mailed out for a bit yet, as I have to wait until someone else sends me one. The group moderator put together a list of all of the people that have participated in the ATC exchange previously and picked one pattern. Then she selected someone to start this exchange off. She gave her the list of people and posted the link to the pattern. Then the person stitched and mailed off the PIF ATC to someone on the list. Then that person does the same, until everyone on the list (that wants to participate in this exchange) receives one of these PIF ATCs. No one has picked my name off the list yet, but I have my ATC all finished & ready to go. And here it is ...






What do you think? Again, everyone will stitch the same pattern, and then the only differences will be the cardstock it is mounted on and how it is embellished. It's a cute and simple pattern. I hope the person that receives mine likes it. :~)

Also, I wanted to share with you all the ATC that I received from the person that I did the private ATC swap with. It is just beautiful!!!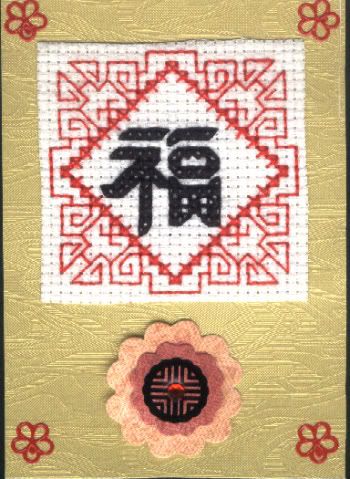 I just love the cardstock that she used to mount the pattern on. It fits the theme perfectly, I think. Don't you?

So for August, the group themes are Mother's Day or Father's Day. But then after a couple of people posted how they are not parents, the moderator posted that it could be something you would give to a woman and something you would give to a man. Lots of choices with those themes. It took me a couple days to decide on patterns. But I think I came up with a couple of good ones. Also, one of the members of this group started another ATC group so those of us that are really hooked on these ATCs can stitch and receive even more of them. To start off there is only one theme, and for August the theme is "Birds of a Feather", which basically is any bird ... real, cartoon or imaginary. :~) Should be fun. Still have to find which pattern to use for that one. But I have a couple in mind already. :~) Once I get them finished, I'll post pics! :~)

Hope ya'll are having a wonderful day & getting lots of stitching done!!!

Until Next Time,
♥ Margie ♥