Hi Stitching Friends!

Yes it's me again, coming to you with my September ATC finishes and also a picture of the one that I have received so far.

So the themes for September were ...
Cross Stitch ATC's ~ Letter 'B' and Flower Power
Addicted to Cross Stitch ATC's ~ Pigs

For the Letter 'B' one, I wanted to do something different than just a pretty girly typical letter B. So I have this book with kids theme alphabets. And there is this one alphabet they call "Creepy Crawly". I saw that and thought to myself, "oh yeah this is the one".

So here is how it turned out ...






It was my husband's idea to add the "splat" stickers LOL. The lady that received it thought it was great and said that her son REALLY loved it! LOL!

Then for the next theme, Flower Power, I knew the second I read that theme exactly what I was going to do for it. The only problem was I knew the pattern was larger than normal. But it was such a perfect pattern that I HAD to make it work.

And here it is!






In order to make this design fit on the 2 1/2 by 3 1/2 inch card stock, I had to stitch this piece on 22 count aida. The smallest I have ever stitched on before was 18 count, so this was definitely different. I used only 1 strand of floss for each X. And the main green color called for 2 different colors of floss combined. So what I had to do for that was I did the first half of the X in one color and the other half of the X in the other color. The second color was a DMC Light Effect light green color. The silver on the piece was also a DMC Light Effects floss. I hadn't used that before, but believe me, my Thread Heaven came in very handy. So what do you think of it? I had to admit, I wanted to keep this one for myself LOL! A lot of the ones that I have been seeing others post are just of flowers, which are all very beautiful. But to me, "Flower Power" is best represented by stuff from the 60's. :~)

The other theme, Pigs, seemed simple enough. But when going through my leaflets and books, I was surprised to see that I had hardly any pigs patterns. But I went online and found a pig that I thought was both cute and different.

And here she is! ...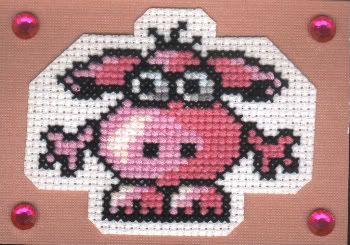 I think she turned out pretty cute, don't you? After stitching with 1 strand of floss on 22 count aida, switching back to 14 count aida with 2 strands was really weird lol! I wasn't sure at all how to embellish this one, so I just added the pink rhinestones. My husband said I should have mounted the piece on some "mud brown" cardstock, but I didn't have any, so this was the next best thing I think. What do you think?

So those were all the ones that I have done for September. My favorite out of all three is definitely the Flower Power one. But I did have fun stitching all of them.

So far, I have received the Flower Power one for the month of September. It is absolutely beautiful!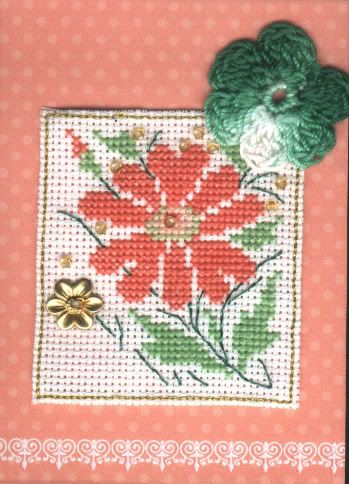 The lady that sent this one to me crocheted the flower in the top right corner herself! Isn't it cute?! I couldn't do that in a million years lol!

So I have still to receive the Letter B and Pig for September. And then the Pay It Forward exchange once it gets around to me. And then sadly, I have still yet to receive an Oriental theme ATC from back in May. Apparently there was some sort of a mix up when the emails were sent out and one lady received two Oriental theme ATC's and I received none. :~/ But it's ok. I really do love all the ones that I have received! :~)

So now I am all done with ATC's until Octobers themes come out. I am REALLY looking forward to those! :~) October is my favorite month of the year and Autumn is my favorite season!!! Should be lots of fun! :~) With this ATC break, I'm going to get busy on finishing Henry since I've had to put him off for so long with my MIA glasses issue and such. I can't wait to get him back home to his owner.

And with that I'm off to do some stitching!

Happy Stitching Everyone!!!

Until Next Time,
♥ Margie ♥