How are you all doing? I am doing pretty well! :~) I got a little bit of stitching in on Thursday and Friday nights after running around getting everything together for my son's birthday party. I stitched the rest of the X's on the frog. Then Saturday was the party and by the time we got home, I was WIPED OUT! So Sunday and Monday I didn't get any stitching done, but tonight I sat down and did all the backstitching on the frog. Now all I have left is the lettering and he'll be all done! :~) I think he's turning out really cute and I just hope my niece likes it and it makes her smile every time she looks at it. :~)
So here is what he looked like before I did any backstitching ...


And here is what he looks like right now, with all the backstitching done on the frog.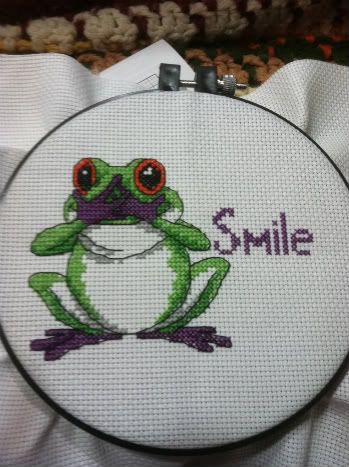 When I look at this frog, he looks to me like he's being mischievous or up to something and it makes me laugh. :~)
So what do you think so far? It's nearly 3am and even though I really think I should be heading off to bed, I also want so much to get this lil guy finished. So I'm torn between my comfy bed and catching some good Zzzzz's and getting some good stitching and quiet time in. Do any of you ever have that problem?
Well, I'm off to decide ... stitching or sleep ...
Until Next Time,
♥ Margie ♥