Hi there Friends and Blog Followers! :)
Wow it's been a while since I've posted and I have even passed my 4 yr Blogoversary, I believe, since my last post. It's so hard to believe that I've been blogging for that long. But I have certainly loved every minute of it! :) I look forward to many more years to come! :) Thank you to everyone who follows and comments on my blog. I really appreciate each and every one of you! :)
So, I have been working on my very special football helmets birth announcement piece for my friends. It's looking great. I realized last night that I hadn't posted any update pics here on my blog and was upset with myself for not doing so. But I did take photos. So here I am today, posting pics! :)
So without further a due, here they are!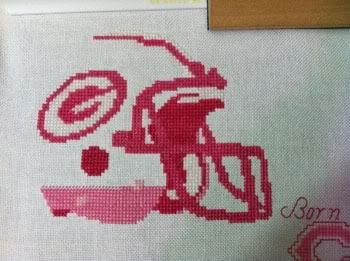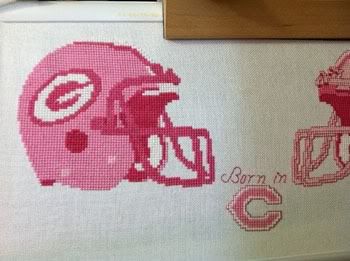 And there they are! So what do you think? I have finished with all of the X stitches and am now working on what's left of the back stitching. As of this post, I am nearly finished with the back stitching on the helmet on the left and then will just have all of the baby's info in the middle and the daddy's name under the helmet on the left. I am so happy with how this is turning out. I am just so upset with myself for allowing my stitching bug to hide away from me, causing me to take so long to get this piece finished. I can't wait to hear how my friends like this piece. I just hope that the daddy doesn't get upset about me adding the 'C' at the bottom. :) I don't think that he will, but there is always that chance, I guess.
Once this piece is finished, then I will be jumping into the Heaven and Earth Designs piece called Hold on to Hope, which I showed a photo of in my last post. My friend that I'll be SAL with on that piece is making a lot of progress on it. But I am glad that she's not a super sonic speedy stitcher lol. :)
Well, that's all I have for now.