Hi there Friends and Blog Followers! :)
So I've been working on a couple of things. One is a "Christmas in July" pattern that looks like quilt blocks. Those participating stitching one block each day from July 1st thru July 25th. One of my stitching friends on Facebook, Sunshine Stitches, designed the pattern and she posts the pattern for each block, one per day, on her blog. We are on Day/Block 18. It has been really fun since it's a small quick stitch each day. We get to select our own colors for the pattern. I have selected a few colors both solids and variegated.
Here is where mine is after stitching Day/Block 18 ...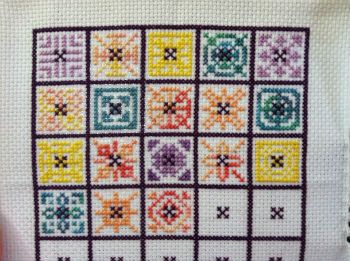 Only seven more days/blocks to go!
The other project that I have been working on is, well, I've finally started HAED's Hold on to Hope! :) I've started in the bottom left corner of the pattern. I am having fun with the piece. Although it seems I always forget about how much confetti stitching there is in all of the HAED patterns. I have no idea what I'm going to do with this piece once I am finished. I don't know if I'll keep it for myself, or give it away to someone as a gift. But I do have plenty of time to think about that as I stitch it. I am stitching this one as an SAL with one of my online stitching friends. She is awesome & such a great friend. I wish that we could meet in person, as she is one of my best friends.
Anyway, this is what Hold on to Hope will look like when finished ...
And this is where I'm at after finishing my first page ...
Still, obviously, have a lot to go, but at least it's progress. :) I'm already working on and making progress on the next page. I am moving to the right and then will move up.
Well, that is all I have for now.
Happy Stitching and Crafting Everyone!!!
Until Next Time,
♥ Margie ♥