Hello My Friends!
So what have I been working on this past month. Well I must admit, stitching has been a challenge the last month and a half. I have been working on this ATC that should have been quick and easy. But when I selected the pattern, I didn't realize the TONS of french knots it had. Now normally, they don't bother me too much, HOWEVER, stitching french knots on 18 count aida, that are placed in the CENTER of the square instead of at the corner of the squares and that has been a big challenge. It is really hard to poke the needle from the bottom up into the fabric and then go back down thru the same hole. And like I said, there are a bunch of them. I also have a couple of coasters to mail out soon.
Another project that I have started is a pattern called Transformation by
Tilton Crafts
. Shelley, the owner and designer of the pattern, asked if I would do this pattern as a model stitch for her. It's a beautiful pattern that Shelley did an awesome job on. The artist is Victoria Frances. So I have started working on this pattern. I just love it.
Here is what it looks like ...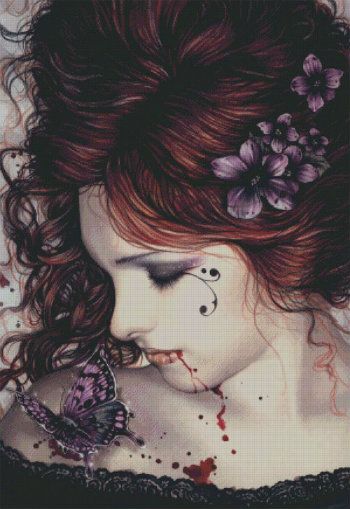 Isn't she gorgeous?! I just love this pattern. The pattern is 300 x 435, so it's a larger pattern. I am starting in the bottom left corner.
So I made a decision. As some of you know, I have some projects that I have started and not finished. One of them, I was never really into. Another I liked the pattern, but was not super excited about. So I'll probably either never finish it, or it will be a long while before I ever go back to it. So I am putting them, not only on a back burner, but up in the back corner of a shelf, so to speak. Those two are Pale Rose and Hold on to Hope. Both were supposed to be stitch a longs with someone else and those stitch a longs never really happened. So I'd rather concentrate on projects that I really want to do. And I definitely have other WIPs and UFOs that I absolutely love and really want to get finished.
Speaking of WIPs and UFOs ... a friend of mine on Facebook has created a new group called
Wednesday UFO Cross Stitchers
. The object of the group is that every Wednesday we will all work on a current or unfinished project and we will all support and motivate each other so that we can get our projects finished. I think this is a great idea and I am really excited about it! To have a set day to work on these projects may be just what I need to get some good finishes under my belt and actually complete some of my goals that I list for myself each year. So if any of you are like me and need that extra motivation and want to share some fun and progress, and if you are Facebook, just click on the link above to request to be part of the group. There are a lot of very nice people in the group! I've added a tab at the top of my blog where I will post my Wednesday progress.
And with that (today is Wednesday!), I am off to get some stitching done!
Happy Stitching, Crafting & Blogging to you all!
Until Next Time,
♥ Margie ♥