Hello Dear Friends!
Oh my goodness, I feel terrible for not having updated my blog in so long! I have done some stitching, but not a lot. This has been a really rough year. Just a few weeks ago, we had another family loss. A very dear family friend, who my husband & I considered to be another mom to us and another grandma to our kids. Just like my father-in-law, it was completely sudden and unexpected. I am deeply saddened and have been an emotional wreck. I wanted to share a photo I have of both of them.
So as for my stitching, recently my Grama, who is 80 (well 81 as of a few days ago) recently got married again! So I decided to stitch something for the two of them. I thought a traditional wedding piece was not fitting for a "later in life" marriage such as theirs. So instead I found a cute pattern that was designed by a friend on Facebook. I posted that I was going to stitch it and how I was going to add my Grama's and her new husband's names on the coffee cups, and the designer loved the idea and said she would make a few changes to the original for me. She added hearts and put their names on the cups and it looks perfect! I am stitching it on 14ct fiddlers light aida. So that is one of the pieces that I'm stitching at the moment.
Here is design ...
And here are my progress pics so far ...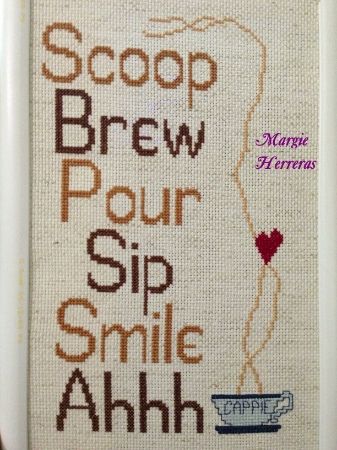 Also, I am in a Stitchalong (SAL) where each month we are all stitching a different White Willow Stitching Tribal pattern over the next year. This month's pattern is the Tribal Cauldron. I have only stitched a little bit so far as I'm really trying to get my Grama's gift finished first. I am stitching it on 28ct opalescent white evenweave. For the cauldron, I'm using a black cotton pearl to create the texture of a cast iron cauldron. I have never used cotton pearl floss before. So it's definitely been interesting to stitch with. For the potion bubbles, I am using Canon Waterlilies 153 Distant Hills, which is a 12 ply hand dyed silk. The Distant Hills color is a green/purple variegated floss, which I think will look perfect!
Here is a picture of what the Tribal Cauldron design looks like.
On the Cauldron, I don't really have enough progress completed in order to post a photo yet. But I will soon.
For the project for the Sandy Hook Elementary quilts, after designing all of the patterns, I stitched the one for the school, and then others stitched the individual patterns. The finished squares that I have seen pictures of, have turned out beautiful.
Here is a photo of the square that I designed and stitched for the school quilt ...
Well that is where I'm at for now. I'll be posting more again really soon!
Happy Stitching & Crafting Everyone!!!
Until Next Time,
♥ Margie ♥