Hello Stitching & Crafting Friends & Followers!
So here we are, already 5 days into September! Only 111 days until Christmas, and I'm sure that will fly by!
So I am very happy to show you the finished piece of Coffee Motto that I made for my Grama and her new husband. Here it is before and after matting & framing ...
You'll remember on my last post how I mentioned about one of the groups I am in on Facebook doing a different
White Willow Stitching
tribal pattern SAL each month. Last month (August) was the Tribal Cauldron. Since I was using the size 5 cotton perle black floss and had never used it before, even tho I am stitching it on 28 ct evenweave, it is proving to be quite the challenge to stitch with. But I am getting thru it very slowly. This is the only progress I've made on it so far ...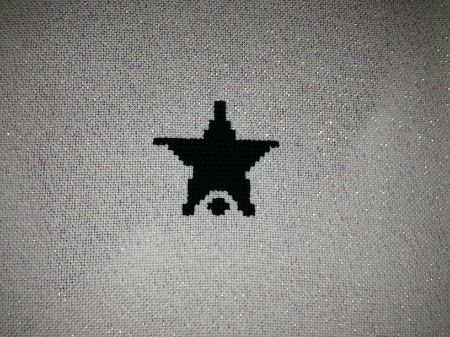 The pattern that we are doing for the September
WWS
Tribal SAL is the Tribal Cat. Originally I hadn't planned on stitching this one, but once it was added to the SAL list, I thought why not. I still haven't decided what fabric or floss to use for it, so I'll keep thinking about it. This is what the Tribal Cat looks like ...
Towards the end of August, I decided to start working on the
Kincavel Krosses
Rules for Life. My dear friend that passed away, Momma Anna, I showed this pattern to her after I bought it. All the many years we've known each other, she had never asked me to stitch her anything specific before. But as soon as she saw and read the Rules for Life design, she said to me, "I really like this one. Please stitch this one for me." I had never gotten to get it stitched for her before she passed. This of course saddens me. So I am stitching it. And I am going to give it to Momma Anna's daughter after it's finished. I am stitching it on 14 ct light oatmeal aida and using ThreadworX 10342 Earth Stones floss. I think the fabric & floss combination is looking really really good. I'm still doing the border of the design so I don't want to post an update photo yet, but here is what the design looks like, as well as the floss & fabric together right before I started it ...
Also during all of this, I am also trying to completely revamp and reorganize my entire craft room. That in itself is quite a job & quite time consuming. But it's going to be so worth it once I have it finished.
Well that's all I have for this time. I should be posting some update photos soon! Thank you, as always, for reading and following my blog!
Happy Stitching & Crafting to One & All!
Until Next Time,
♥ Margie ♥